CallanLoF

In his natural habitat
Vital statistics
Gender
Male
Status
Alive; as a baboon
CallanLoF is a voice actor of Poxxu as well as a few minor characters. He's mostly known for his role in Blackish, being the lead star.
Description
Edit
Written by CallanLoF:
Hey, my name's Caleb Lang of Black-ish fame. I've voiced a couple people in this show and have been dodging molestation accusations for the best part of the last decade. My favorite character that I've played is the largely despised character, Poxxu, with "Mushroom Man" coming in a close second. I also have my own channel where I make animations. I hope my performances in the episodes please fans. Mushroom Man is my favorite character who also happens to be running as the Republican nominee for POTUS.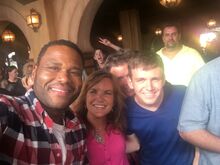 Characters Played
Edit
After voicing a disgusting old man horribly, Callan was typecast as voicing children in the show.
External Links
Edit