Double Date is the twenty-ninth episode of The Misadventures of Onipex and Pals and the thirteenth Misadventure. Though it's not considered an actual episode, as it isn't part of any season, it is still canon. It is centered on Onipex finally getting a date.
Production
Edit
Prior to the production of Tan, Aliki was set to be released before Tan. However, Aliki was pushed back, as Ids5621 found the project much larger than anticipated. For this very reason, the episode was actually cancelled temporarily. Double Date was the script written to replace Aliki, but was shelved since Ids5621 decided to reinstate Aliki's production. The concept would later return as a Misadventure instead.
Episode Synopsis
Edit
For the full episode, click here.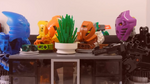 Jevik catches Onipex looking at Cathy on Facenook. The two decide to go on a double date (Jevik with Jessaco and Onipex with Cathy). They go to the tailor to get suits made, and then meet at an unknown restaurant. It is later revealed that Cathy was not actually at the date, but it was a dummy replica much to Onipex's dismay.
Characters
Edit
Major Characters
Edit
Minor Characters
Edit
Mentioned
Edit
Voice Actors
Edit
Continuity
Edit