Apartment 3D is Onipex's place of residence, and is also one of the primary locations in The Misadventures of Onipex and Pals.
Within the series, several areas have seen within Onipex's apartment. The series started off in the kitchen (the front door also leads onto it), and it is the main location in the series so far. Many other rooms have become key locations in several episodes, notably the living area.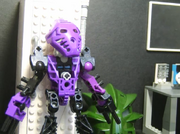 Notable features include: a fridge, a table, a Tiki head, an Aliki Poster (not found in Preview), and a mirror. The single seat sofa seen in the kitchen is actually from the living area, as the two rooms flow into each other due the open plan nature of the apartment.
Appearances
Edit
Living Area
Edit
Notable features include: two sofas, another Tiki
Miru Nuva
head, a coffee table, a single seat sofa and TV (only found in kitchen scenes) and another stylized Aliki poster.
Appearances
Edit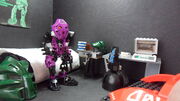 It was going to be the main location of Friends, a cancelled episode. It later debuted in Intruder. Notable features include: bed, another Miru Nuva Tiki head, a poster of Uncle Steve, a bedside table, another Aliki poster, a computer, a sofa like that in the living area, a chair and various possessions. A replica of Aliki's head can be found on the table.
The room was seen in disarray during the events of "Jevik? Pt 3".
Appearances
Edit
Notable features include: a bathtub, a toilet, a mirror, a sink, a wall-mounted soap dish, and a tiled floor. It made it's debut in the episode
Rahi
.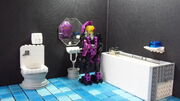 Appearances
Edit
Parking Lot
Edit
Although technically this isn't Onipex's Apartment, the parking lot is to the rear of the whole building. Notable features include: a dumpster, parking spaces, pavement, and an MVT.
Appearances
Edit
Overall Appearances
Edit