Prize is the thirtieth episode of The Misadventures of Onipex and Pals and the fourteenth Misadventure. Though it's not considered an actual episode, as it isn't part of any season, it is still canon. It focuses on Podan starting up a game on the streets to exploit people for money.
Episode Synopsis
Edit
For the full episode, click here.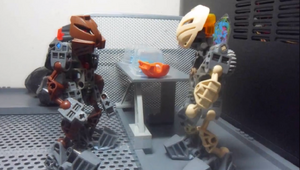 Podan is standing next to a table reading an SD Card and says that "Poxxu is into some weird stuff". Poxxu enters and asks what Podan is doing, and he explains that he is trying to make some honest cash. Poxxu discovers that Podan hasn't made any money yet and is forced to try and help him out. Poxxu has no money so Podan pays for him, in the end Podan isn't gaining any income. The point of the game is to find a certain color under one of three boxes, however with the boxes being clear, the game is pointless. Podan is angered at Poxxu's insults and punches him in his face and calls him an "Ass hat". Subsequently Podan is one again advertising his game, but this time towards Procks. Procks replies with the fact that no one loves him, and that he should get lost.
Characters
Edit
Major Characters
Edit
Minor Characters
Edit
Voice Actors
Edit
There is a smudge on the camera lens throughout this episode.