The Misadventures of Onipex and Pals

Logo since Season Two.
Producer(s)
Ids5621
Created by
Ids5621
Starring
iBIONICLE
Ids5621
Jampot Animations
TheGreenCrusader15
ChickenBond2
Country of origin
United Kingdom
No. of seasons
2
No. of episodes
61 (total; 1 incomplete)
43 (canon; 1 incomplete)
20 (main; 1 incomplete)
23 (Misadventures)
3 (Misadventoons)
1 (semi-canon)
14 (non-canon)
Production
Production
companies
Ids Productions
Broadcast

Original channel

YouTube (2010-2017)
Ids5621 (2010-2012)
TheIdsStudios (2012-2017)
Original run
August 9, 2010 - January 28, 2017
The Misadventures of Onipex and Pals was a stop-motion comedy series created by Ids5621. It was initially created as a comedic side series to All Stars, to be released more frequently and to keep input coming into the channel. It revolves around the Matoran Onipex and his annoying friend, Jevik.
It outlived All Stars, following its cancellation, and was Ids5621's primary series.[1]
Release Info
Edit
The series had no regular release pattern until Brain Fart. However, the "Brain Fart" regime did not last because of scheduling problems and the episodes have reattained their erratic releases. Each season is very short consisting of only 10 episodes. A second season was confirmed and started on August 30, 2011.
After the release of Frank the series was put on hold, first for the production of a school project and then, until late May 2012, because Ids5621's real life schedule. The series returned with The Camera Pt 1. The series was put on hiatus for the production of Jevik? Pt 3, with only two episodes being released in 2015 and one non-canon one in 2016. Eventually, Jevik? Pt 3 was cancelled and released as multiple clips instead. The clips, as well as the show, concluded on January 28, 2017.
Main article: List of Episodes
Season 1 started on August 9, 2010 and ended on August 30, 2011. Season 2 premiered on August 30, 2011 and ended on January 28, 2017. Misadventures started on July 9, 2012 and ended on December 15, 2015.
Characters
Edit
Main article: List of Characters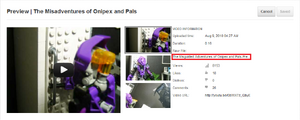 Preview was initially created as a stand alone video.

Preview was also initially uploaded as The Misguided Adventures of Onipex and Pals, but the title was changed shortly after.
Preview is Ids5621's favorite episode.

Aside from Preview, Rap, Intruder and Replacement, most first season episodes have begun with a standard black background title accompanied by a scream. In "Rap", the scream is replaced by the snoring of Onipex, in Intruder with music and in Replacement with a cough.
In the second season, the standard black background and scream in the episode intros are replaced with the new title cards and an intro theme. Some Misadventures feature title cards, but not the full intro theme.
External Links
Edit
References
Edit